Description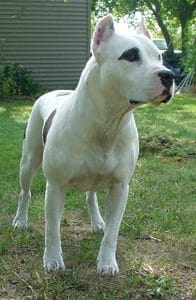 This blend was created for my own dog Thollie, who was abandoned in the middle of the night in an outdoor dog run in Minneapolis, Minnesota in 2008.  Not much was known of her past, but it was fairly obvious that she carried some significant emotional traumas.  She was unable to pass temperament testing in order to go into a rescue situation.  She was incredibly head shy – and would not let anyone touch her around her head or ears.
​Thollie was the inspiration to my creation of Calm-a-Mile RTU, which helped her tremendously with her responses to common activities such as nail trims and veterinary care.
Initially, I had used this blend in an undiluted form for Thollie.  And while it was still helpful, we found even more results when we diluted the blend in Fractionated Coconut Oil.  Fractionated Coconut Oil is used within our products as a carrier oil, as it does not harden like traditional raw coconut oil at cool room temperatures – important when we need to drip the oil from a bottle!  Thollie's willingness to use any essential oil we wanted, hid the benefits of a more diluted formula from us for a while.  However, we found once she was exposed to the diluted form – she responded even more favorably.  She had shown us fully that sometimes "less is more" – and we have evolved many of our formulas further due to this enlightenment.  The fact is, many animals are overwhelmed by the strength of essential oils, and the ideal dilution ratio – actually creates a LARGER response!
Key search terms: calming, anxiety, anxious, calm, calmamile, cam, CAM, separation, collapsing trachea, cough, sleep, sleeping, insomnia, cognitive dysfunction,
dementia, fear, alzheimers, agitated, CCD, aggression, introduction, relaxation, massage, nail trim